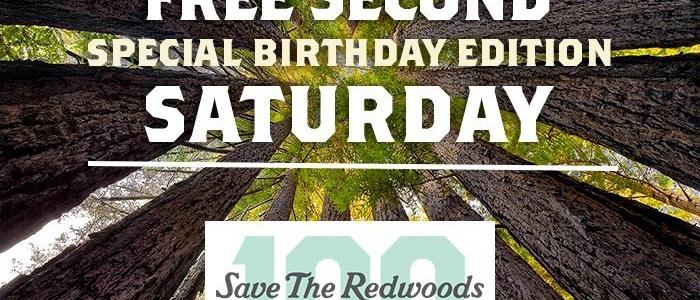 Save the Redwoods League sponsors free admission to 100-plus parks
SAN FRANCISCO -- To celebrate 100 years of saving California's iconic redwood forests, Save the Redwoods League, California State Parks and 24 park agencies are offering free day-use admission to more than 100 redwood parks statewide on Saturday, October 13. This special edition of this popular program will take place on October 13 during celebration week. Passes are available for download at FreeRedwoodsDays.org starting.
The goal of Free Second Saturdays, which has been running all year at 40+ Redwood State Parks, is to connect the people of California with these magnificent natural legacies, to inspire visitors with the beauty and power of the redwoods, and to celebrate Save the Redwoods League's 100-year conservation legacy.
With October being the League's official Centennial Celebration Month and 2018 having been declared the Year of the Redwoods by the California State Legislature (SR 100), the League has expanded the group of parks partners to include national, regional, county and city parks, in addition to the state parks that have been participating each month, so that it has 100+ parks for its 100th birthday.
The passes cover day-use admission and parking fees to those parks where there are usually entrance fees. Passes for October 13 are available on a first-come, first-served basis at FreeRedwoodsDays.org
Please keep in mind:
For parks that are always free, such as Redwood National Park and Humboldt State Redwoods State Park, no pass is required to participate.
For parks that require passes, the number of passes is limited. They will be distributed on a first-come, first-served basis according to each park's capacity.
Only one day-use pass is needed per vehicle, per park.
The pass covers day-use admission and parking fees. The pass does not guarantee a parking space or entry if the park is full due to high demand.
To ensure valid entry and avoid fines, printed passes must be presented to park staff members at entry gates or displayed on vehicle dashboards if no personnel are on duty.
Electronic images of the pass will not be accepted.
Consider visiting a state park during off-peak hours – opening time to 11 a.m. and 3 p.m. to closing time.
Visitors without passes are welcome, but must pay admission.
We encourage all park visitors to review and obey park rules.
Share your experiences with us on social media and tag them with #Stand4Redwoods and #FreeRedwoodsDays.
Free Second Saturdays will continue through the rest of 2018 at 40+ Redwood State Parks on:
November 10
December 8
"People come from around the world to walk among California's ancient redwoods," said Sam Hodder, President and Chief Executive Officer of Save the Redwoods League. "As part of our Centennial celebration, Save the Redwoods League is thrilled to host a free day in the redwood parks once a month all year long. We invite you to stand under the world's tallest living creatures - the most powerful forest in the fight against climate change - and learn why we are working so hard to protect and restore it. We are celebrating our 100th birthday in the redwood parks, and we want you to join us!"
Save the Redwoods League
One of the nation's oldest conservation organizations, Save the Redwoods League has been protecting and restoring redwood forests since 1918, connecting generations of visitors with the beauty and serenity of the redwood forest. Our 20,000 supporters have enabled the League to protect more than 204,000 acres of irreplaceable forest in 66 state, national and local parks and reserves. For more information, go to SaveTheRedwoods.org.
Participating Parks in Humboldt County
Arcata Community Forest
Benbow State Recreation Area
Fort Humboldt State Historic Park
Grizzly Creek Redwoods State Park
Headwaters Forest Reserve
Humboldt Lagoons State Park
Humboldt Redwoods State Park
John B. Dewitt Redwoods State Natural Reserve
Patrick's Point State Park
Prairie Creek Redwoods State Park
Redwood National Park
Richardson Grove State Park
Shady Dell (Lost Coast Trail)
Van Duzen County Park
SOURCE Save the Redwoods League
Related Links
https://www.savetheredwoods.org