Events for Current Month
Address:

322 First Street

Eureka, CA 95501
MAY 2018

Pony Express Days
May 30 - Jun 3  Wed - Sun - McKinleyville: Family fun – Chili cook-off, barn dance, pancake breakfast, parade, and festival.   707.839.2449   www.mckinleyvillechamber.com

First Friday Night at the Refuge
Jun 1 Fri. - Loleta: Enjoy an early evening walk at the Refuge. Visitor center & Shorebird Loop Trail & Visitor Center will be open until 8pm. 1020 Ranch Rd. 707.733.5406  www.fws.gov/refuge/humboldt_bay/

Trinidad Art Nights!
Jun 1 Fri. - Trinidad: Explore & celebrate with local artists. Live music. 6-9pm through-out Trinidad. 707.677.1610

Friday Night Market
Jun 1 Fri. - Eureka: Music festival, vendor market & farmer's market 5-9pm Clarke Plaza, 240 E St.   (707) 798-6411

Fortuna City-wide Yard Sale
Jun 2, Sat. - Fortuna: The Collector's Special! Main Street closes for a day. Retailer and Garage Sales. 8am–4pm

Lanphere Dunes Guided Walk
Jun 2, Sat. - Arcata/Manila:  Exploration of a beautiful and diverse dune system in the Pacific Northwest. 10am meet at Pacific Union School, 3001 Janes Rd. Call to reserve  707.444.1397  www.friendsofthedunes.org

PBS NorthCoast Kids Club
Jun 2, Sat. - Eureka: Morris Graves Museum of Art - Workshops designed for children 2-8 years old, all ages are welcome. 12-2pm 636 F St $5/$2 members & under 17 free 707.442.0278 www.humboldtarts.org

Humboldt Historical Lecture
Jun 2, Sat. - Eureka Public Library:  1313 3rd St., Library Meeting Room 1:00pm 707.445.4342  www.humboldthistory.org

Arts Alive Jun Sat. Eureka - Old town/downtown galleries & businesses showcase local & regional artists. 6-9pm. 707-442-9054

North Coast Open Studios
Jun 2 & 3 Sat & Sun. County-wide. Humboldt artists open their doors to share their work. 11am – 5pm Directions to artists studios can be found at www.northcoastopenstudios.com

Summer Arts & Music Festival
Jun 2 & 3  Sat & Sun. - Benbow State Rec Area: Art, music, food and fun in the sun on the banks of Eel River $40 at the gate per day www.mateel.org/summer-arts-and-music-festival

Indoor Flea Market
Jun 3,  Sun. - Eureka: Indoor flea market at Redwood Acres Fairgrounds. 8am-3pm. 3750 Harris St.

Art Talk Sunday
Jun 3 Sun. - Eureka: Morris Graves Museum of Art. 636 F St. 2pm $5/$2 members & under 17 free 707.442.0278

Guided Nature Walk at Wildlife Refuge
Jun 6 Wed. - Loleta: Guided hike with Naturalist Louise Bacon-Ogden - It's free & beginners are welcome. 1020 Ranch Rd. 9am 707.733.5406 https://www.fws.gov/refuge/humboldt_bay/

Arts! Arcata
Jun 8 Fri. - Arcata: Galleries & businesses showcase local artists 6-9pm. Start at the Plaza. www.ArcataMainStreet.com

Friday Night Market
Jun 8 Fri. - Eureka: Music festival, vendor market & farmer's market 5-9pm Clarke Plaza, 240 E St.

Family Arts Day
Jun 9, Sat. - Eureka: Morris Graves Museum of Art. 2-4 p.m. FREE With Museum Admission. 707.442.0278


Humboldt Roller Derby Game
Jun 9 Sat. Eureka- Redwood Acres Fairgrounds. Double header: Redwood Saplings vs. Little Rascals & Root Force vs. Resurrection Roller Girls. 6pm. $15. 3750 Harris St.

Prince Birthday Tribute
Jun 9 Sat  Eureka - The inn at 2nd & "C" St.   Antonio's Tribute to Prince, straight from Los Angeles. 8pm $25 (707) 672-4883

North Coast Open Studios
Jun 9 & 10 Sat & Sun. County-wide. Humboldt artists open their doors to share their work. 11am – 5pm Directions to artists studios can be found at www.northcoastopenstudios.com

Birdwalk at Wildlife Refuge
Jun 10, Sun. - Loleta: Guided bird hike with Audubon Society walk leaders. It's free & beginners are welcome. 1020 Ranch Rd. 9am. 707.733.5406 www.fws.gov/refuge/humboldt_bay/

Art and Wine in the Park
Jun 10, Sun. - Fortuna: Enjoy a day of wine tasting, art, food and music. Local wines as well as wines from all over California. Rohner Park, 5 Park St. Noon-4pm www.fortunarotary.org

Concerts on the Boardwalk
Jun 14, Thurs. - Eureka: Summer Concert - Clean Sweep (R&B Funk) Market Square "C" St., 6-8pm. FREE. www.eurekamainstreet.org

Art Night! McKinleyville
Jun 15, Fri. - McKinleyville: Features local art, jewelry, music & food Central Ave 6-8pm 707-834-6460

Friday Night Market
Jun 15 Fri. - Eureka: Music festival, vendor market & farmer's market 5-9pm Clarke Plaza, 240 E St.  (707) 798-6411

Arcata Oyster Festival
Jun 16, Sat. - Arcata: The state's oyster nirvana. Oysters, spirits, music & fun activities for the kids. 10am - 5:30pm Arcata Plaza www.arcatamainstreet.com/oyster-festival

Rodeo in the Redwoods
Jun 15 & 16, Fri & Sat.- Garberville: Rodeo parade, Steak BBQ, & Junior rodeo. Community Park, Sprowel Creek Rds., Garberville 707.223.1046 www.garbervillerodeo.org

Audubon Birdwalk Hikshari' Trail (Eureka Waterfront)
Jun 17, Sun. - Eureka: Guided birdwalk along the Elk River access trail. Meet at Foot of W. Del Norte Street 9am 707.499.1247 www.rras.org/events or www.savetheredwoods.org/events/

Trinidad Fish Festival
Jun 17, Sun. - Trinidad: Treat dad to a day in Trinidad at Fish Festival on Father's Day. Walking tours to the working lighthouse. Tidepool tours & more. 11am - 5pm www.trinidadcalif.com

Wine & Jazz at MGMA
Jun 17, Sun. - Eureka: Morris Graves Museum of Art. 636 Ft St. 3-5pm $5/$2 members & under 17 free 707.442.0278 www.humboldtarts.org

Concerts on the Boardwalk
June 21, Thurs. - Eureka: Summer Concert. Johnny Young (Country) Market Square "C" St., 6-8pm. FREE. www.eurekamainstreet.org

Best of Humboldt Fair
Jun 21 - 24,  Thurs–Sun. - Eureka: Locally produced goods & Carnival at Eureka's Redwood Acres Fairgrounds. 3750 Harris Street www.redwoodacres.com

Arcata Marsh & Wildlife Sanctuary Lecture
Jun 22 Fri. Arcata  7:30pm. Free. 707.826.2359

Friday Night Market
Jun 22, Fri. - Eureka: Music festival, vendor market & farmer's market 5-9pm Clarke Plaza, 240 E St.  (707) 798-6411

Movies in the Park
Jun 23, Sat. - Eureka: Showing "Thor"  Sequoia Zoo & Park. Free family fun. Music at 7pm - Movie at dusk. 3414 W Street.

Arcata Marsh Slower-Speed Tour
Jun 26 Tues. Arcata - See the marsh at a slow pace 2pm - 45 to 60 minutes across even, level ground. Meet at parking lot on So. "I" St off Samoa Blvd. 707.826.2359

Concerts on the Boardwalk
June 28, Thurs. - Eureka: Summer Concert. Merv George (Classic Rock) Market Square "C" St., 6-8pm. FREE. www.eurekamainstreet.org

Friday Night Market
Jun 29, Fri. - Eureka: Music festival, vendor market & farmer's market 5-9pm Clarke Plaza, 240 E St.  (707) 798-6411



Dell'Arte- Mad River Festival
Jun 14-Jul 14. Blue Lake - A month of original Dell' Arte performances. Carlo Theater. 131 H St. 8pm. Tickets $12/$10. 707.668.5663  www.dellarte.com

Humboldt Crabs Baseball
Jun 1 thru Aug 5 Arcata Ballpark - Family Fun. America's oldest continuously operated summer collegiate baseball program. $4-9. 9th & F St. 707.826.2333

North Coast Repertory Theatre- Hedwig & The Angry Inch
May 18-Jun 17 Thurs-Sat. Eureka - . Fri & Sat 8pm, Sun 2 pm. 300 5th St.. 707.442.6278  www.ncrt.net

                                 QUICK LIST OF THINGS TO DO
Sequoia Park & Zoo 3414 W St., Eureka. Tues–Sun 10–5pm.  707.441.4263 www.sequoiaparkzoo.net
Humboldt Botanical Garden  7351 Tompkins Hill Road Wed-Sat 10am-2pm, Sun 11am-3pm 707.442.5139
Fern Cottage Ferndale - Guided & self-guided Thurs-Sat  707.786.4835
Humboldt Bay Tourism - Taste  205 G St., Eureka Taste local delicacies /plan your visit. 12-9pm 7 days
Blue Ox Millworks Tour  1 X St. Eureka Mon-Fri 9am-5pm Sat 9am-4pm 707.444.3437
Chapman's Gem, Mineral Shop & Museum 24 Metropolitan Rd Hwy 101 Fortuna everyday 10-5pm
Haunted History Tour of old town Eureka most evenings upon request. 707.672.5012
Chocolate Factory Tour  Dick Taylor Chocolates 4 W. 4th St., Eureka CALL 707.798.6010
Lost Coast Brewery Tour  1600 Sunset Dr., Eureka  everyday 11am – 5pm 707.267.9651
Humboldt Bay Oyster Tours  Reserve  36hrs advance. humboldtbayoystertours.com
Ride in a Horse drawn carriage thru old town. 2nd & F Sts. Eureka 646.591.2058
Horseback Tours into Redwood National Park, RedwoodCreekBuckarettes.com 707.499.2943
Humboldt Coastal Nature Center Hike the Dunes  220 Stamp Lane Manila 707.444.1397
Humboldt Bay Wildlife Refuge  1020 Ranch Rd, Loleta. Download Nature App & discover wildlife on the trails  707.733.5406
Arcata Marsh Audubon Guided Bird Tour Every Saturday 8:30am Klopp Lake, So. I St. 
Arcata Marsh Tours rain or shine, Every Saturday 2pm Interpretive Center, 569 South G St.
Telonicher Marine Lab in Trinidad 570 Ewing St., Call for hours 707.826.3671
Humboats Kayak Adventures  Tours and rentals.  Humboldt Bay,  SUPS Woodley Island, A Dock  707.443.5157www.Humboats.com
Humboldt Bay Aquatic Center kayaks, canoes & stand up paddle boards. Rentals & instruction 10am-4pm     7 days, 921 Waterfront Dr., Eureka 10am-3pm  707.443.4222
Kayak Zak's   Kayak, SUP rentals 10am-5pm  Weekends Stone Lagoon   707.498.1130  2target="_blank">kayakzak.com
Pacific Outfitters Adventures Tours Instruction & tours. 707.443.6328  Redwood National & State Parks.  707.488.2222 
Outdoor Fun for Kids  EdVentures: Go on a scavenger quest in one of the participating parks and earn a Redwoods EdVenture Patch. 

                              VISIT AN ART GALLERY or MUSEUM EXHIBIT
Arcata Artisans
Arcata - 883 H St.  Fine Art & Craft co-operative gallery & gift shop. Artist's receptions 2nd Fri month during Arts!Arcata.  Mon-Sat 10am-6pm, Sun Noon-4pm  707.825.9133

Arcata Marsh Interpretive Center - Monthly Art Exhibit
Arcata – 569 S. "G" St. Local artist exhibits of wildlife. Tues-Sun  9am-5pm Mon 1-5pm 707.826.2359

Clarke Historical Museum
Eureka – 240 "E" St. Art showcase, in addition to ongoing Victorian period exhibit & impressive display of Native American basketry & regalia. Bank building Tue-Sat 10am-6pm, Sun 11am-4pm.  707.443.1947

Holly Yashi - Jewelry as Art
Arcata Known throughout the world for its colors & design. Watch it being made. Viewing room, Mon-Sat 10am-5pm  Tours weekdays @ 11am.  1300 Ninth St., 800.274.2714

Humboldt Bay Maritime Museum Cookhouse Rd., Samoa across from the Cookhouse  Tues-Sat 11-4pm

Morris Graves Museum of Art
Eureka - 636 "F" St, Hours: Humboldt County's only art museum. Artists reception and live music on First Sat Arts Alive 6-9pm. Gallery hours: Noon-5pm, Wed-Sun 

Natural History Museum Arcata 1242 G St Tues-Sat 10am-5pm  707.826.4479

Redwood Art Association Gallery
Eureka - 603 "F" St. Founded in 1956 by a group of artists with a goal of promoting visual art in our community.  Gallery hours: Wed-Sun noon-5pm, Arts Alive receptions 6-9pm 707.268.0755

The Blacksmith Shop
Ferndale The finest & largest collection of master blacksmithing & glass blowing in the US 455 Main St   7 days a week 9:30am-5pm  707.443.2075

Third Street Art Gallery
Eureka – 416 Third St. Art gallery of Humboldt State University showcases the school's outstanding fine arts program. Gallery hours: Tues - Sun 12 - 5 pm 707.443.6363  Artists reception first Sat at Arts Alive 6-9pm

Trinidad Art Gallery
Trinidad artist cooperative - Original art by local artists. 490 Trinity St., 7 days. Gallery hours: 10am-5pm 707.677.3770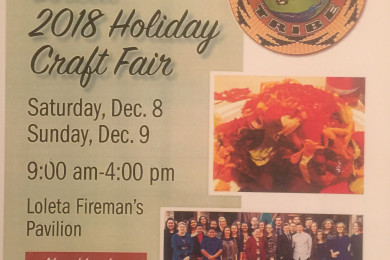 Recurring every December 1st
824 Loleta Drive, Loleta, CA 95551