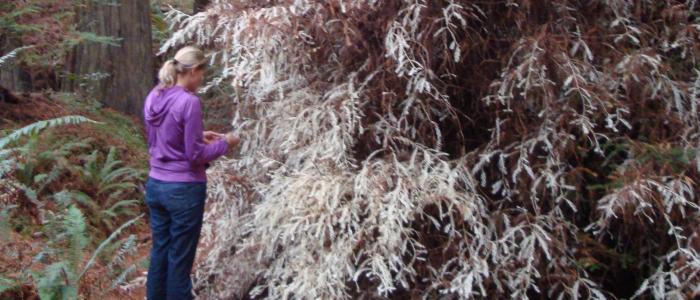 EUREKA, CA -- Do you want to learn more about albino redwoods and see these fascinating trees up close? This Labor Day weekend, renowned albino redwood researcher Tom Stapleton will be at Humboldt Redwoods State Park to host two special events:
Interpretive Walk September 1st, 11 AM:
Come join us on a park sanctioned walk to see some of the most unique albino redwoods within the park. On this outing, you'll have the chance to learn about these mysterious trees and see the fascinating aspects how they differ from normal green redwoods. This will be a rare opportunity to see albino redwoods which are normally not disclosed by park personnel. The highlight of the walk will be the chance to see the largest aerial albino redwood known. The gathering location will be at the HRSP Visitor Center. From there we'll caravan a few miles away to an undisclosed location within the park to see the trees. Be sure to bring your camera! Duration is approximately 90 minutes. The hike is easy,and admission is free.

Campfire Talk September 1st, 8:30 PM:
Later that evening, Stapleton will put on a slide show presentation about albino and chimeric redwoods, which are sort of hybrids between regular and albino trees, to park visitors and guests. Here we'll learn that redwoods are not only famous for their size and height, but also for their mutational colors. The talk will consist of the history of albino redwoods, the various types found and the latest cutting-edge research. This will be a great time to see live chimeric albino redwoods on display. The campfire talk will be held next to the HRSP Visitor Center. Duration 50 minutes. Admission is free.
Source and more info: www.chimeraredwoods.com