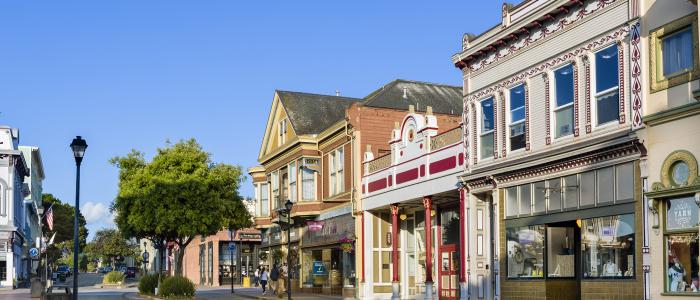 Eureka, CA – The Victorian seaport of Eureka earned second place in Sunset Magazine's list of "Game-Changing Places to Live in the West," to be published in the February 2018 edition. The magazine's editorial staff researched average home prices and city populations, talked to residents for insights about quality of life and municipal planning, and made sure to factor in the nightlife.  
"This small seaport spent a decade restoring its waterfront with a newly completed 6-mile pedestrian trail," the online version of the story reads. "Adding to the charm are grand 19th-century homes, proximity to redwoods, and more artists per capita than anywhere else in the state."
The accolade is one of many the magazine has bestowed on Eureka in recent years. It named the city of 30,000 among the best summer getaways in 2013, noting "the once industrial port city has been remade into an outdoorsy destination." The year before, in a feature story, it declared "Eureka [has arrived] with a new-look waterfront."
The Eureka-Humboldt Visitors Bureau often works behind the scenes to make such positive coverage happen. In the two instances above, for example, staff made the preliminary pitch to Sunset editors to spur their interest in Eureka's renaissance, then hosted Sunset writers and photographers, and provided insider tips, sources and images. In the upcoming story, Sunset used an image from the bureau to showcase Eureka. (https://www.sunset.com/travel/travel-tips/best-small-towns-to-live-in#eureka-ca-old-town)
Sometimes serendipity comes into play. One of the main writers of the February 2018 piece formerly edited 7X7, a San Francisco-based e-travel site, which the bureau has worked closely with to generate content about Humboldt County, including the epic "Modern Guide to Eureka" in 2016. 
Unfortunately, said writer (Not that she's biased, we're sure!) went to college and had her first newspaper job in Sacramento, which earned top honors in Sunset's 2018 awards. Others rounding out the top ten were Truckee, Fresno, Carlsbad, Carson City, Oxnard, Palm Springs, Salida, Colorado and Missoula, Montana.
ABOUT: 
The Eureka-Humboldt Visitors Bureau is the official destination marketing organization for Humboldt County, which besides Eureka includes Redwood National Park and the Avenue of the Giants, home to the world's tallest trees. For more, visit www.VisitRedwoods.com.
Sunset Magazine, the premier travel and lifestyle magazine in the West, has an estimated audience of 4.5 million. The first writer assigned to do a travel piece on Eureka was a fellow named Jack London in 1911. For more, visit www.Sunset.com. 
MORE: 
For additional questions, contact admin@visitredwoods.com or 707-443-5097.
PHOTOS: 
For print-quality press photos of Eureka (Courtesy VisitRedwoods.com), visit: https://bitly.com/eurekasunset