Fort Humboldt State Historic Park
Address:

3431 Fort Ave

Eureka, CA 95503
On a bluff overlooking Humboldt Bay
Established in 1853, Fort Humboldt was only occupied by the Army for 13 years. Among the fort's early garrison was Captain Ulysses S. Grant --- later to become Civil War general and president of the United States.
At its heyday, the fort had 14 buildings all of crude plank construction, though most were plastered inside. Most original buildings are gone, but the hospital and surgeon's quarters have been reconstructed. The fort was abandoned in 1870.
Visit the hospital building with exhibits that explain fort operation & history. Allow additional time to walk through outdoor exhibits & historic logging equipment including steam donkeys, locomotives etc. and logging museum.
Facilities and Activities: Historic reconstruction of buildings, Grassy bluff with picnic tables Outdoor logging machinery displays Logging & fort museum Bookstore and restrooms.
Events:
On the 3rd Saturday of each month from May - September
Free "Steam UP" rides on the Bear Harbor Lumber Co., Gypsy Locomotive No. 1.
During the month of April the Fort holds Dolbeer Donkey Days -- A two day event featuring logging equipment in operation and logging skills competition.
Find out more about Humboldt County's history in the
"Redwood Coast Heritage Trails"
brochure. Download or contact the H.C.C.V.B. office for a copy.   Location/Directions
South side of Eureka, CA - just off Hwy 101 on a grassy bluff overlooking Humboldt Bay & the Bayshore Mall. East on Highland Ave. 1 block.
Heading north on Hwy 101 turn right two lights past Kmart onto Highland Ave.  Follow sign to the park.
(Eureka, CA Latitude/Longitude: 40.8021 / -124.1624)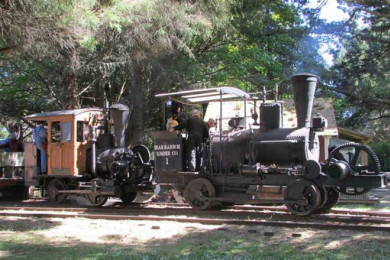 Recurring on the 4th Saturday of April
3431 Fort Ave, Eureka , CA 95503