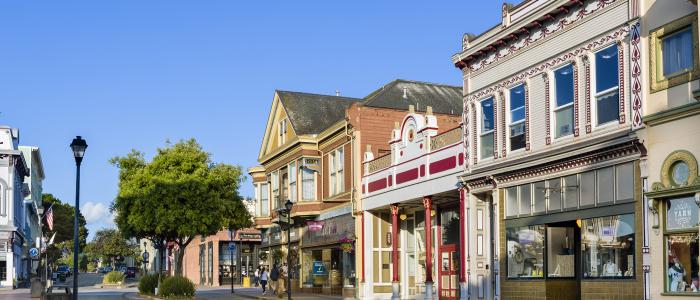 County, Eureka also post record bed taxes in 2017
Eureka, CA – Total traveler spending generated a record $448 million for Humboldt County in 2017, an increase of four percent over 2016, according to newly released government tourism data. In a related trend, the local lodging industry had its highest bed tax collection as well last year, collecting more than $7.5 million, a jump of nine percent, well above the three percent average rise for the state. 
Eureka posted the highest dollar gain among the cities, $131,000, for a total bed tax collection of $3 million. Unincorporated Humboldt County, likewise, notched an impressive gain of $311,000, almost 18 percent over the previous year, to push its total to more than $2 million.
"Despite a drop in international travel to the United States last year, Humboldt has yet again outperformed the national and state industry averages," said Eureka-Humboldt Visitors Bureau executive director Tony Smithers. "We think this has to do with the strength of our core attraction, the redwoods, and the success of our marketing focus on them." 
In 2017, visitors to the county spent most of their money on food -- $150 million. Next was lodging at $107 million. Transportation costs accounted for $59 million, entertainment and recreation at $58 million, and retail sales at $44 million.
Travel spending generated almost $17 million in local tax receipts and $20 million in state tax receipts in Humboldt County, according to the new state tourism report, published by Dean Runyan and Associates, the nation's premier travel industry market research firm. Industry employment generated by travel spending accounted for 5,540 jobs, a slight increase over 2016. 
This year could prove to be another banner year, Smithers said, given that, in conjunction with the bureau, Lonely Planet announced in February that it had selected California's Redwood Coast, essentially Humboldt County, as its number one U.S. travel destination for 2018. 
"With hundreds of top media outlets around the world covering that news, the message that we're number one was delivered more than a billion times to potential visitors," Smithers said, citing the media report from Lonely Planet, the world's top seller of travel guides.
To further the Lonely Planet message, the bureau organized an international contest in which the winners get a free trip to Humboldt, and is distributing Lonely Planet window clings for businesses that want to tout the Best In the US award. 
For more information about the Humboldt tourism economy or the Lonely Planet campaign, contact Richard Stenger at the bureau at 707-443-5097 or admin@visitredwoods.com.