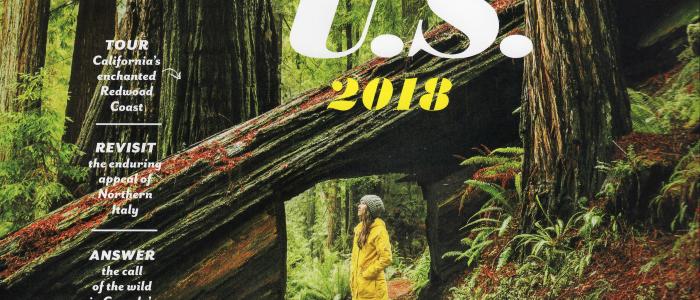 Magazine ranks Ten Best In The US for 2018
Eureka, Calif. – Each year, Lonely Planet asks its community of travel experts – in-house editors, researchers on the road and locals on the ground – to decide on the most compelling destinations to visit in the year ahead. This year marks the eighth annual Best in the US list. 
 
For 2018 Lonely Planet named California's Redwood Coast, primarily Humboldt County, the number one destination in the country to visit in 2018. Located four hours north of San Francisco, this picturesque region spans 175 miles of coastline and is home to towering forests of giant redwood trees that you might recognize from blockbuster film franchises such as Star Wars and Jurassic Park. With Redwood National Park turning 50 this year, travelers can get their share of shinrin-yoku (forest therapy) and experience Humboldt County's quirky new shops, oysters and brewpubs. 
 
"This is a huge endorsement from one of the world's top travel brands," Eureka-Humboldt Visitors Bureau Tony Smithers said. "We've always known that the Redwood Coast is one the most special places on Earth. We're honored and glad to see that Lonely Planet and others are starting to see it too."
 
The bureau worked extensively with Lonely Planet before and after the selection process, providing the nomination team with Humboldt stories, content, images, videos and schwag, coordinating and leading the advance trip by the Lonely Planet editorial team, and helping craft the post-announcement press release and grand prize sweepstakes to ensure that the public relations messaging focused on Humboldt County parks, attractions and businesses. The result? A PR campaign that generated more than 1 billion impressions and 1.4 million in free publicity in the world media. 
To see the Lonely Planet video featuring Humboldt, go to: https://www.youtube.com/user/redwoodcoaster
About Eureka-Humboldt Visitors Bureau:
The EHVB is the official destination marketing organization for Humboldt County, one of the fasting growing tourism economies in California. Each year more than $400 million is spent by visitors to the county, home to the world's tallest trees of Redwood National Park, the Avenue of the Giants and the Victorian seaport of Eureka. The bureau is a non-profit partnership representing hundreds of local businesses, lodging properties, county and city governments. Its marketing footprint includes more than 100 million yearly impressions through advertising, media placements, social media, and its website, www.visitredwoods.com.
About Lonely Planet:
Lonely Planet is a leading travel media company and the world's number one travel guidebook brand, providing both inspiring and trustworthy information for every kind of traveler since 1973. Over the past four decades, the company has printed over 145 million guidebooks and grown a dedicated, passionate global community of travelers. Lonely Planet can be found on lonelyplanet.com, mobile, video and in 14 languages, nine international magazines, armchair and lifestyle books, ebooks and more. Visit them at www.lonelyplanet.com.