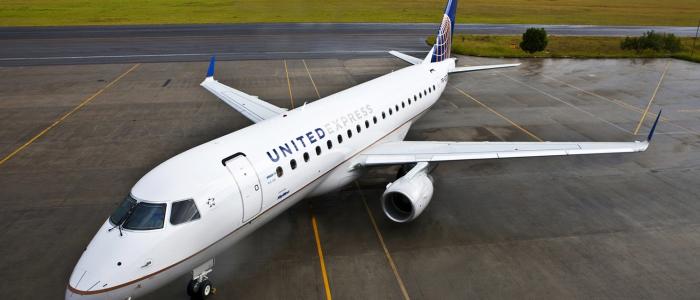 Eureka – United Airlines will begin nonstop service from Humboldt County (ACV) to Los Angeles International Airport (LAX) starting June 7, 2018, the airlines and the Redwood Region Economic Development Commission announced today.
"United serves more destinations within California than any other airline and we are proud to announce Los Angeles to Eureka as our 24th route within the state," said Jake Cefolia, United's vice president of Sales. "Customers traveling between the Northern California Coast and our hub in Los Angeles will have more opportunities to connect to multiple flights on United's domestic and international route network."    United will provide the service with a 50-seat CRJ regional jet and will start with one flight per day as follows:
Depart LAX    8:05 a.m.
Arrive ACV    9:55 a.m.
Depart ACV    10:25 a.m.
Arrive LAX    12:15 p.m.
"A direct flight to Southern California has been a top priority for our air service recruitment efforts," said Humboldt County Aviation Program Coordinator Emily Jacobs. "Market research has shown that demand for this service from our community is strong.  Our previous service to LAX was very popular with tourists and businesspeople.  
Humboldt County had service to LAX from 2005 to 2011 provided by a different carrier.
"The LAX connection is one that we've been working to get for many years.  I want to thank United Airlines for their investment in our community," said Supervisor Virginia Bass.  "I know that that direct service to LAX the create new opportunities to increase business and tourist travel."  
"On behalf of the Humboldt County tourism industry we are thrilled to reconnect with Los Angeles through United Airlines," said Tony Smithers, Executive Director of the Eureka-Humboldt Visitors Bureau. "We look forward to growing our market in Southern California, particularly as an additional gateway for the Pacific Rim."
Recruiting and retaining air service has been a top focus of the Redwood Region Economic Development Commission (RREDC) since 2003.  It was that year that RREDC joined with the City of Redding and the County of Humboldt to secure a direct flight to LAX.   
In 2011, RREDC joined with community members, businesses, and organizations to create "Fly Humboldt," a collaborative effort to increase air service and support our local airport.
"Passenger air service is a dynamic and challenging business.  There are literally hundreds of airports competing for the business of less than 10 airlines," said Gregg Foster, Executive Director of RREDC.
"Many small airports have lost air service altogether. We're fortunate to have the support of our community and United Airlines."
In addition to supporting tourism, many larger employers have stated that connecting to Southern California will help them attract talent and access markets.
"We are actively toasting the announcement of the new ACV to LAX flight! More flights in and out of our community allow our families to gather, businesses to remain successful, and our community to thrive," said Mary Keehn, Founder of Cypress Grove Chevre.
"This success is the result of many businesses, institutions, and individuals coming together to make this happen.  Our thanks to all for the great rallying of support and to United for their continued commitment to the community."
For more information, go to FlyHumboldt.org or Newsroom.United.com