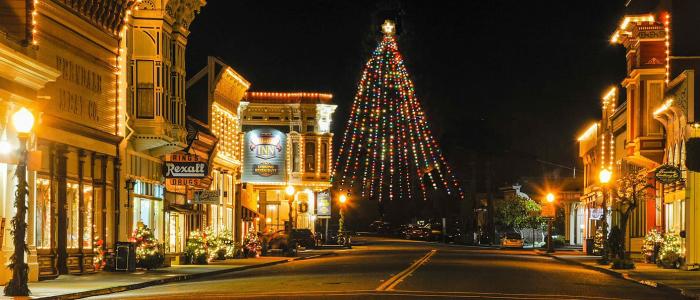 By Cheri March
Travel to just about any town during the holidays, and you'll find the modern-day hallmarks of the season: Christmas music, peppermint mochas, and shopping mall Santa Clauses. Finding the Christmas spirit, however? That's a little trickier to do these days.
Enter the Victorian Village of Ferndale. Nestled in a pastoral valley near the California Redwoods, this historic coastal town—legendary for its lovingly preserved Victorians and Normal Rockwell-esque Main Street—is pure magic at Christmas.
With its towering living Christmas tree (America's tallest), historic downtown aglow with lights, and picturesque setting tucked between dairy farms and foggy forest, it's a sight to behold. Yet it's the feeling of Ferndale that makes this historic hamlet one of the best small towns to visit during the holidays.
Step back in time to a place where jovial townsfolk exchange yuletide greetings, kids still gaze in wonder at old-time holiday displays, locals check off their holiday shopping lists at mom-and-pop stores owned by friends and neighbors, and residents honor beloved holiday traditions year after year. It's that combination of enchanting scenery and good old-fashioned Americana that make Ferndale one of America's most magical Christmas towns.
Main Street Becomes a Victorian Holiday Wonderland
Visiting Ferndale during the holidays is like seeing a vintage Christmas card come to life, with Main Street's Victorian-era buildings illuminated in brilliant white lights and street-lamp glow, twinkling trees outside every shop trimmed with ornaments handmade by local schoolkids, and Ferndale's spectacular Christmas tree hovering above it all like a beacon to herald the holiday season. It's only fitting that a town known for its proximity to California's famous redwoods would be home to America's tallest living Christmas tree.
Since 1934, Ferndale's volunteer firefighters have been stringing colored lights up the lofty spruce at the end of Main Street every first Sunday of December. The whole town turns out to mingle, sing carols and countdown to the tree lighting before gathering over free cocoa and homemade cookies of all kinds. It's such a heartwarming show of small town spirit that you almost expect the crowd to join hands and start singing like the Whos down in Whoville.
Of course, it's not only Main Street that's magic at Christmas. Meander through Ferndale's historic neighborhoods lined with Victorians, Craftsmans, and cottages bedecked in holiday lights and tour the town's magnificent historic inns splendidly trimmed for the season.
A Vibrant Shopping District with Nary a Chain Store in Sight
What Ferndale's quaint business district lacks in size it more than makes up for in character, with a collection of some of California's most charming independent shops housed inside ornate gingerbread-trimmed facades. From the most impressive collection of blacksmithing in the country to an authentic two-story general store, from vintage markets and quilt shops to galleries of artisan goods, and from handcrafted sweets to gourmet pet treats, Ferndale's mom-and-pop shops are brimming with one-of-a-kind finds perfect for heartfelt gifts and fun stocking stuffers.
Kick off the holiday shopping season in Ferndale with Hospitality Night, a tradition in which merchants stay open late and share holiday goodies, good cheer, and good deals, with customers. Old-fashioned Christmas magic meets festive block party at this popular holiday open house when Main Street teems with live music, laughter, and free cookies and beverages.
After Hospitality Night, hit the shops early when Santa Claus and his jolly elf visit Victorian Main Street bearing bags of goodies for kids and photo opps for parents. Between window-shopping, pause to warm your spirits with a holiday drink or bite to eat at one of Ferndale's cozy cafes and restaurants.
Share in the Authentic Small-Town Americana Holiday Spirit
Craving a break from the hectic holiday pace? Rediscover the joy of Christmas when you join in small-town festivities with true community spirit. More than the sparkling lights and holiday swag, it's the refreshing atmosphere of small-town Americana that makes Ferndale shine as a Christmas town.
Whether you're mingling with friendly locals at one of Ferndale's vibrant restaurants, taking in a holiday show at the renowned Ferndale Repertory Theatre or intimate concert venue The Old Steeple, or enjoying uniquely Ferndale events like the Lighted Tractor Parade--in which local farmers and ranchers drive light-adorned tractors and tractor-drawn wagons down historic Main Street for a sparkling country Christmas celebration--Ferndale at Christmas feels like one big, joyous family celebration.
Ferndale Holiday Events 2018
See historic Ferndale alight in holiday splendor and discover why the Victorian Village's fun, family-friendly events are a Humboldt County tradition for many! Find more information about Ferndale events at VisitFerndale.com/Holidays
Photo credits: Historic Main Street - Ferndale Chamber archive; Christmas in Ferndale - Carl Neeley; all other photos - Leon Villagomez