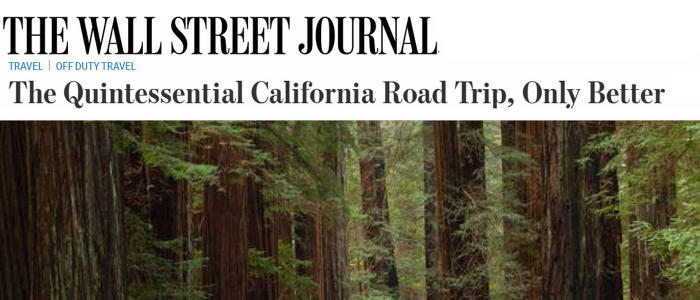 Bureau introduces WSJ to the serious business of having fun in Humboldt County
EUREKA, Ca – When one of the nation's big city newspapers needed a California break, the Eureka-Humboldt Visitors Bureau stepped in as their guide. The outcome? A story in this weeks Wall Street Journal's travel section featuring many of Humboldt County's beloved and unique attractions and businesses.
The "quintessential" Humboldt redwoods dominated the three-day road trip from San Francisco to Eureka. The piece leads with a stunning image of trees on the Avenue of the Giants then pays homage to John Steinbeck's "Travels With Charley," in which he famously enthused about the "ambassadors from another time."
Bureau staff worked closely with the Journal staff since 2018 to develop the story, including early trip planning, frequent wildfire updates to ensure the best visit, fact checking and media resource sharing.
"The redwoods lure visitors in, but more discoveries surprise and amaze, and it is the Bureau's job to promote these to the visitor," commented Richard Stenger, associate director of media and marketing.
The Journal team experienced some of Humboldt's finest attractions iconic and new: the Benbow Inn and the mysterious Carson Mansion which, although closed to the public, "you can still skulk around the property snapping photos like a cat burglar," said Ryann Haase in his WSJ article;
And new, like the many businesses run by young entrepreneurs including Humboldt Bay Provisions, "part of a growing wave of stylish businesses [that] serves oysters pulled in right from the bay."
Haase, answering the call of the wild, ventured north to Redwood National & State Park then hiked the James Irvine Trail to marvel at Fern Canyon, with its "lush, furry walls so otherworldly like they're in a Jurassic Park film."
After absorbing Humboldt's best, the Journal visitors opted to take an "80-minute hop from the Humboldt County airport, [which] delivers a birds-eye view of all the terrain you just saw at street level."
The Bureau works constantly to place such favorable Humboldt travel stories in regional, national and international publications. The estimated value of the Wall Street Journal feature, for example, if a comparable amount of advertising space were purchased, would be about $300,000. Last year, Bureau efforts generated about $3 million worth of print media publicity. 
ABOUT:
The Humboldt County Visitors Bureau enthusiastically introduces visitors of all ages and from all places to the treasures of Humboldt County. The Eureka-based non-profit is the official destination marketing organization for Humboldt County.
The Wall Street Journal is one of the largest daily newspapers in the United States with a circulation of 2.5 million copies, including 1.6 million digital subscriptions. For more, visit https://www.wsj.com. 
ONLINE SOURCE:
https://www.wsj.com/articles/the-quintessential-california-road-only-better-11558701425